Project

All of the Vienna Chamber of Commerce's departments have recently moved to one hub. Since then, the organisation has been able to manage its customers more flexibly and personally – not least thanks to intelligent EVOline power and data portfolio.

Products

Place

Vienna
One central hub, which provides all services required, is not a matter of course. At least for business people in Vienna anyway who, until now, often had to travel some distance to obtain advice or services. However, all of Vienna Chamber of Commerce's departments are now under one roof.
The Haus der Wiener Wirtschaft building is located on the Austria Campus at Praterstern Square and was completed in 2019. The prestigious building's glass facades symbolise clarity and transparency. The steel and concrete used in the structure also stand for reliability and stability. Walter Rucks, president of the Vienna Chamber of commerce, chose the design because these characteristics also epitomise a flourishing economy.
The benefits of the new site for business people are obvious. As well as having enough conference rooms, the chamber also has function rooms in various sizes. Fledgling entrepreneurs or small companies can use these free of charge for meetings with customers or business partners. What's more, the office planners at teamgnesda created interactive or quiet spaces for people who need to concentrate. All of the chamber of commerce's disciplines are now concentrated on nine storeys – including its business consultancy service. Digitalisation and process optimisation have now made everything much faster, more flexible and more personal.
The human-centred approach was an important principle at the building-planning stage. This also included thinking about who would be working where and when or what mobile devices would be used. These considerations spawned a range of requirements on the part of the office planners for power solutions in furniture. The answer was provided by the flexible products from the EVOline portfolio, which are easy to integrate in the various settings in the building without making any compromises on the design.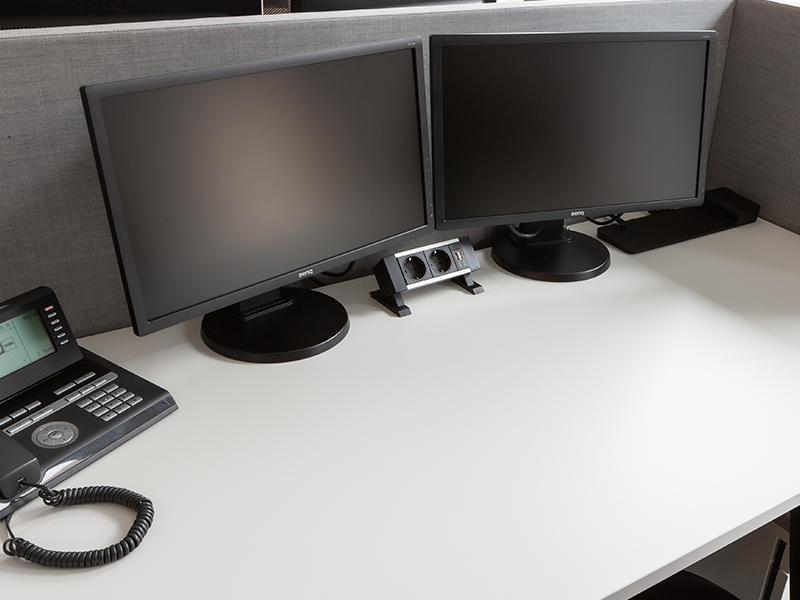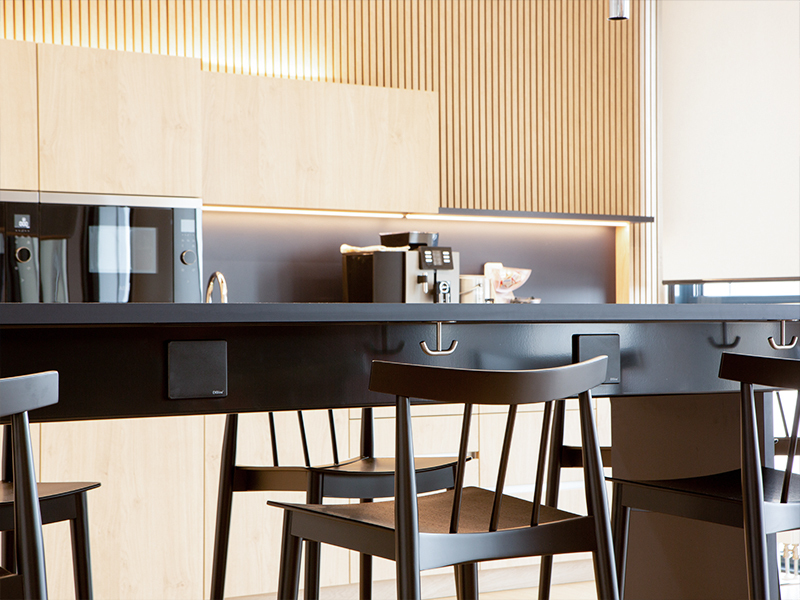 The easy-to-access EVOline Dock Square organises all the key power and data connections at workspaces. The stylish EVOline Square80s are found in the cafeterias and phone booths. All people need to do is push the lids aside to access the socket and USB charger. These products are optionally custom-configurable, with a Qi charger for wireless charging of smartphones for instance. The robust and modular EVOline U-Docks are fitted to the tables and desks in the conference rooms. All three solutions offer a wide range of modules that can be configured to suit preferences.
Matching EVOline® systems