Opening a café during the covid pandemic requires courage. Several months of hard work and some delays saw the completion of the bold project to open a café called Maszkety u Grety in Przyszowice, a small village near Gliwice in Poland. Although surrounded by office buildings and not in a very central location, it's very popular. The goal of the founder, Maciej Długaj, was to create a place for anyone with a laptop to come and work online. Which is why the interior design concept included infrastructure that was both practical and attractive. EVOline's sockets and data connections are a perfect match.
The concept for the Maszkety u Grety café by designer, Adam Sobota, combines the warmth and appeal of natural wood elements with modern design and infrastructure for remote workers. The café has become a go-to place for locals. At the weekend, people from nearby towns also flock to the stylish internet café to enjoy the coffee, casseroles, ice cream and wine.Due to the café's proximity to cities like Gliwice and Katowice, the concept was aimed from the outset at guests who wanted to charge their mobiles or work on their laptops.
In-built power solutions in the designer café
In this case, EVOline's versatile connectors proved to be the best solution. They blend in with the furniture, which is made of natural materials, and provide the functionality and comfort that working on laptops requires. "The EVOline connectors are superb, attractively designed and go very well with our wooden benches. As a result, a connection's always within easy reach," says the café owner. He goes on to say that the understated design blends in well with the rest of the interior.
Round EVOline One single sockets were fitted. These can be subtly incorporated in any design and offer café visitors versatile sockets and data access points. With a mounting depth of just 53 millimetres, the EVOline BackFlip is simple to fit to surfaces. In the case of this practical fitted solution, when tapped on, the module pops up to reveal two sockets and a USB charger.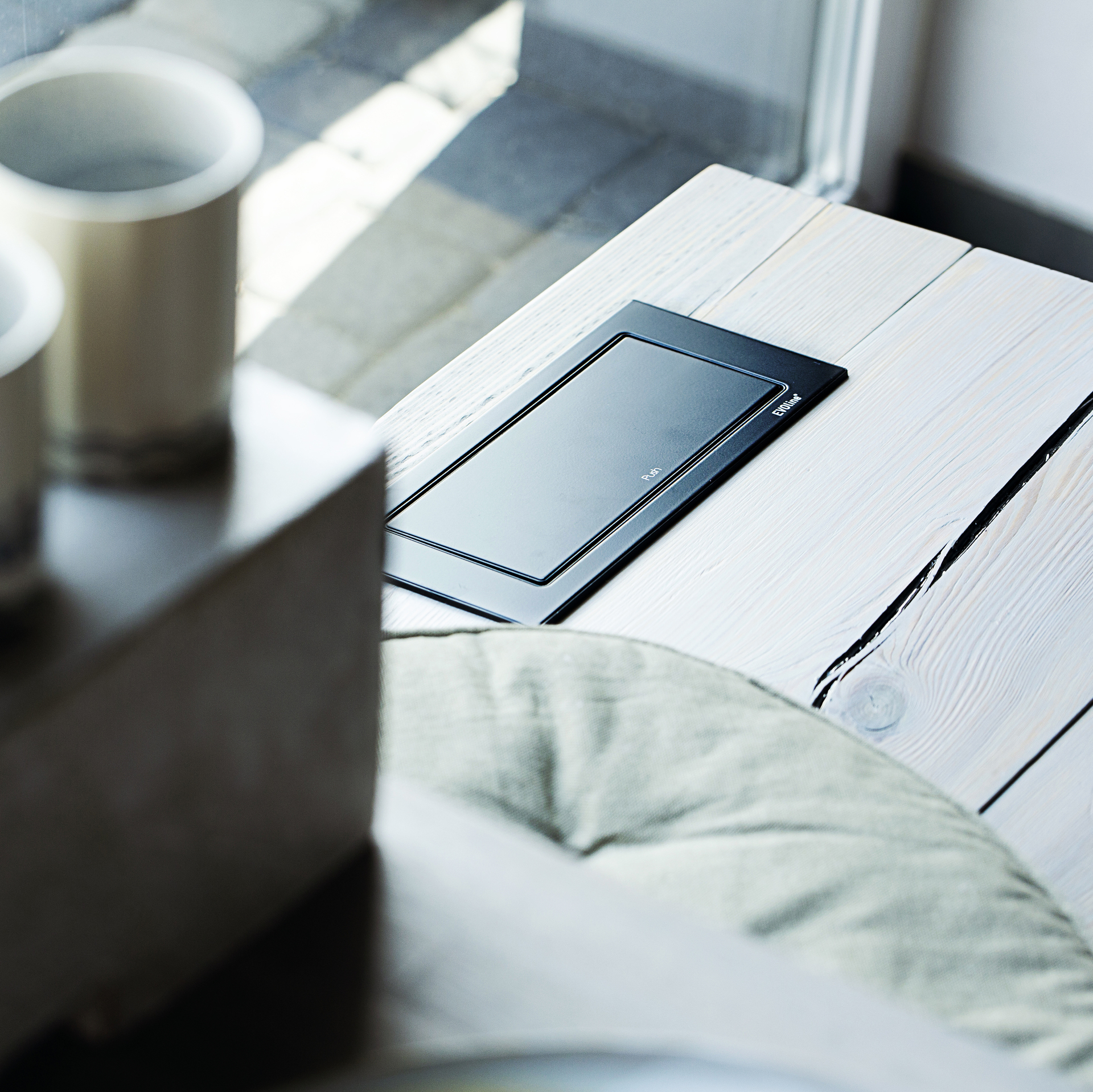 Safe, fitted solutions from EVOline
Although the sockets are fitted to the wooden benches, guests are still safe. It's no problem if anyone spills their coffee because the housing's closed and liquids will just bypass it.
Alongside the tasty cakes, guests are full of praise for the friendly service and tranquillity of this little café. Thanks to EVOline's safe, attractive and versatile products, guests at Maszkety u Grety can easily work anywhere in the café and communicate with the whole world if need be.
Matching EVOline® systems